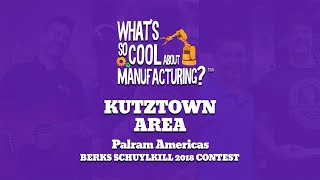 Video duration : 02:28
Video release date : Feb 26th, 2018
Entry into the Berks Schuylkill 2018 What's So Cool About Manufacturing? student video contest. The annual contests excite students across Pennsylvania to explore cool manufacturing careers and produce profiles of companies. Each contest features an online vote for its Viewers Choice Award. The contest format also has been adopted in 11 additional states. The Berks and Schuylkill contest featured 29 teams from 24 school districts and was produced by the Manufacturers Resource Center (MRC) in Allentown, PA. Production support for the Berks Schuylkill contest was provided by PBS39 Lehigh Valley in Bethlehem, PA. The contest's award trophies were designed and manufactured by students from Berks Career and Technology Center (BCTC). Award certificates and event tickets were designed and printed by students from Reading Muhlenberg Career and Technology Center. See more at WhatsSoCool.org.
Video views : 277
Video likes : 1
Video dislikes : 0
Ray Steward, owner of RWSDecks, gives a quick overview of why Palight PVC Trimboard is his trim of choice for decks he builds. From manufacturing through construction, trimboard is always at risk for dirt, finger marks, scuffs and scratches. That's why every individual Palight PVC Trimboard is covered by our patented EverClean™ Protective Film, with sealed edges on all four sides. Palight Trimboard is installed with the film in place – and can stay on for up to 90 days after installation. By cutting out cleaning, patching, painting and masking, you can slash the time spent on the job site. Palight Trimboard keeps it clean until the job is done. Palight Trimboard is manufactured by Palram Americas in Kutztown, Pennsylvania, USA.
Video views : 802
Video likes : 2
Video dislikes : 0